PepsiCo, a colossal player in the Food and Beverage industry, boasts net revenues surpassing $65 billion. Serving as the parent company based in the US, it oversees renowned brands like Pepsi Cola, Frito-Lay, and Tropicana alongside 22 global brands (and an additional 40 country-specific ones). Its annual retail sales exceed $1 billion and its reach spans across 200 countries, including strategic partnerships and investments that have facilitated its presence in markets like Israel through collaborations with companies like Strauss.
"Strauss and PepsiCo have worked in collaboration for over 20 years. The partnership began in 1990 with PepsiCo Frito-Lay in the salty snacks operation, when Strauss Group (then Elite Industries Ltd.) teamed up with the American multinational Food & Beverage corporation through its subsidiary, PepsiCo Investments Europe (I) B.V. ("PepsiCo Europe") and subsequently established the salty snack production site in Sderot, Israel. Both partnerships between the companies are equal, with each holding a 50% stake in the companies." (Strauss-Group.Com)
PepsiCo's Partnership with Strauss:
1992: In partnership with PepsiCo, a salty snack plant named "Elite Sha'ar HaNegev" was set up in Sderot. Additionally, joint investments were made in developing a high-quality potato variety grown in Israel specifically for manufacturing potato snack products.
1998: PepsiCo Frito-Lay partnered with Strauss by purchasing a 50% stake in Strauss Elite Foods, the latter's salty snack company, for $6.7 million.
2008: Strauss and PepsiCo teamed up 50-50 to create, produce, and market refrigerated Dips & Spreads in the USA and Canada under the brand Sabra.
2010: Strauss Group, in collaboration with PepsiCo Frito-Lay, unveiled Sabra's groundbreaking Dips & Spreads plant, deemed the world's largest and most advanced of its kind, constructed with a $70 million investment.
2011: PepsiCo and Strauss jointly founded Obela, a dip brand operating in Mexico with its own Dips & Spreads production site and in Australia under the Red Rock Deli brand.
While not all PepsiCo brands are directly linked to Israel's production, their equal partnership with Strauss ensures financial gains from Israel. Selectively boycotting a single product like Sabra while buying other PepsiCo items doesn't impact PepsiCo's overall financial standing due to their diverse global product line, balancing any potential losses. So we must boycott all PepsiCo products.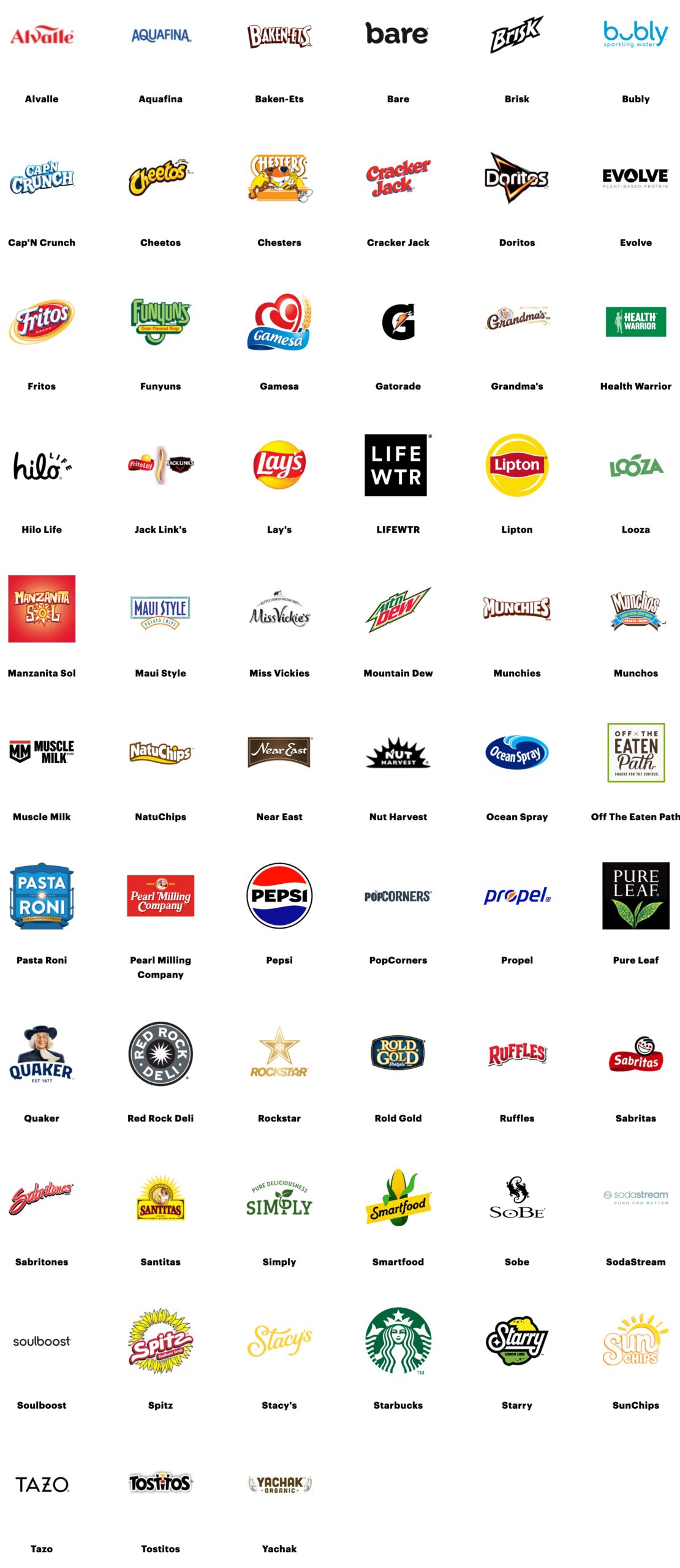 Agousha (Russia)
Alvalle (Spain)[3]
AMP Energy
Aquafina
Aquafina Flavorsplash
Aunt Jemima/Pearl Milling Company
Baconzitos (Brazil)
Cap'n Crunch
Cheetos
Chester's
Chipsy (Egypt, Serbia)
Chudo
Cracker Jack
Crunchy
Diet Mountain Dew
Diet Mug
Diet Pepsi
Diet 7UP (only outside of the United States)
Diet Sierra Mist
Domik v Derevne (Russia)
Doritos
Duyvis (Netherlands)
Elma Chips (Brazil)
Emperador (Mexico)
Evervess (Russia)
Fandangos (Brazil)
Frito-Lay
Fritos
Fruktoviy Sad (Russia)
Frustyle (Russia)
G2
Gatorade
Gatorade Zero
Grandma's
Imunele (Russia)
Izze
Ivi (Albania, Greece, Cyprus, Serbia)
Kas
KhrusTeam (Russia)
Kurkure (Bangladesh, India, Pakistan)
Lay's
Life
Lifewater
Lubimy (Russia)
Manzanita Sol
Marias Gamesa
Matutano (Spain, Portugal)
Marbo Product (Serbia)
Mirinda
Miss Vickie's
Mountain Dew
Mountain Dew Code Red
Mountain Dew Game Fuel
Mountain Dew Kickstart
Mug
Munchies
Naked
Near East
O.N.E.
Paso de los Toros (Uruguay)
Pasta Roni
Pepsi
Pepsi Max
Pepsi Next
Pepsi Zero Sugar
Pioneer Foods
Punica
Propel
Quaker
Quaker Chewy
Rice-A-Roni
Rold Gold
Rosquinhas Mabel (Brazil)
Ruffles
Russkiy Dar (Russia)
Sabritas
Sakata (Australia)
Saladitas
Sandora (Ukraine)
Santitas
7UP (only outside of the United States)
7UP Free (only outside of the United States)
Sierra Mist
Simba (Southern Africa)
Smartfood
Smith's (Australia)
Snack a Jacks
SoBe
SoBe Lifewater
SoBe V Water
Sonric's
Stacy's
Star
Starry
Stiksy (Brazil)
Sting
SunChips
Tonus
Tostitos
Trop 50
Tropicana
Tropicana Farmstand
Tropicana Pure Premium
Tropicana Twister
Twisties (Oceania Region)
Vesely Molochnik
Walkers (United Kingdom)
Ya (Russia)
Yedigün (Turkey)