FOX News contributor Erik Rush tweeted that Muslim terrorists are to blame for the Boston explosions. He has no evidence to back up his claim.
His remedy for the violence in Boston is to kill all Muslims.
The hashtag #muslims was trending as pro- and anti-Islamic voices weighed in.
In what was widely described as a "joke," Rush tweeted: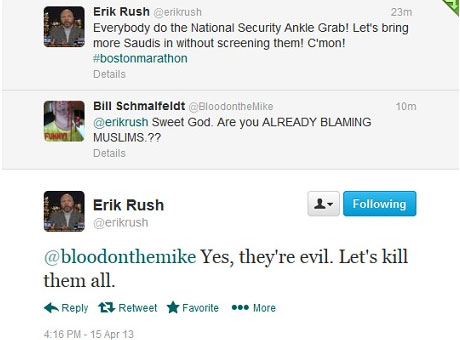 Everybody do the National Security Ankle Grab! Let's bring more Saudis in without screening them! C'mon!#bostonmarathon — Erik Rush (@erikrush) April 15, 2013
When a responder tweeted, "Are you ALREADY BLAMING MUSLIMS??" Rush responded:
"Yes, they're evil. Let's kill them all."
He later tweeted that he was being sarcastic.
However, when a predictable flood of abuse, shocked disgust and the occasional encouragement came, Rush appeared defiant, retweeting the more profane of the responses.